About New Zealand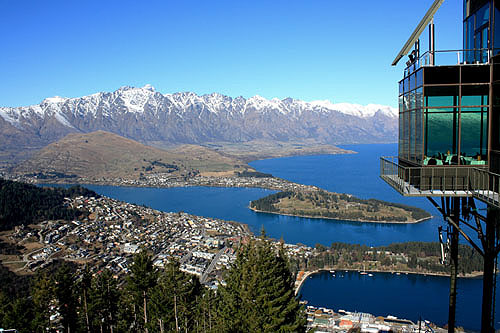 New Zealand is situated in the South Pacific Ocean and its nearest neighbour is Australia. Both New Zealand and Australia make up the area called Australasia. If you include the South Pacific islands, that region is called Oceania.
New Zealand is often considered the most isolated country in the world in a geographical sense. Yet it is a highly developed western country and about the size of the UK. Within New Zealand shores lie just about every climate type from subtropical to subantarctic. It is also possible to pass through vastly different landscapes each day when travelling by road. There are large swathes and good examples of
New Zealand is made up of two main islands aptly named the North Island and the South Island. There are also many hundreds of smaller islands that belong to New Zealand such as Stewart Island or the Chathams.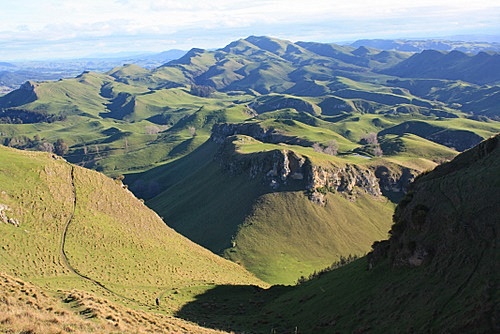 The North Island is the warmer of the two main islands. This island is famous for its volcanoes and most of the thermal activity such as shooting geysers, thermal rivers and boiling mud pools. There are many fine beaches, some great for swimming and others offering huge surf or fishing. The North Island is a hilly island with one major chain of mountains that start from the East Cape and run down to the South Coast near Wellington city. Many visitors comment about how green and lush the North Island is. This is due to island's regular rainfall and volcanic soil. Large tracts and pockets of native bush adds to the islands natural appeal. Read more →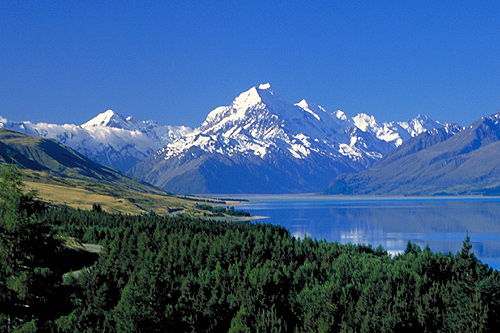 The South Island is a short ferry ride away from the North, however it is remarkably different. The dominating geographical feature here is the mighty Southern Alps that run down the spine of the island, some 500km in length. This mountain range contains 200 peaks over 2000 metres high and thousands of glaciers. It also dictates the weather and climate for the rest of the island. The north of the South Island is the sunniest part of the country with gorgeous beaches and native bush. The west is one of the wettest areas in the world with lush rainforests pierced by snow capped peaks. The south of the island is cooler with inland areas receiving less than 400 mm of rain per year. (200 mm or less is classified as desert). The east coast is similar in appearance to England with rolling green hills and even imported English flora. Read more →
This web site, logo, name, content, photos, and design are protected by international copyright law.
Original versions of our photos can be purchased & web versions can be shared subject to conditions.