Nelson Travel Guide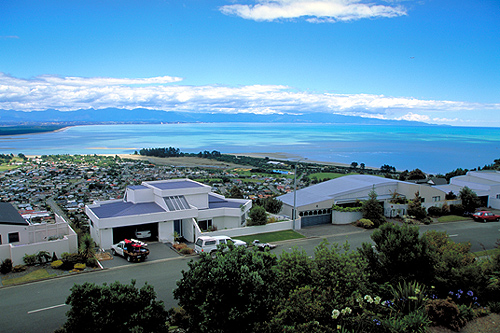 About Nelson
Nelson is the name given to both a city and region of New Zealand. The region is located in the South Island's north west, an area of high sunshine hours and beautiful beaches For this reason, Nelson is a popular city for tourists and a gateway to the region.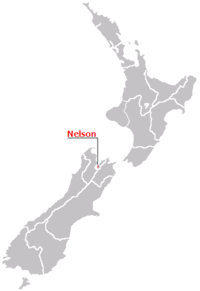 The geographical "Centre of New Zealand" is in Nelson and there is a hill with a marker to designate the spot. However the true geographical centre lies in an obscure patch of forest some 35 kilometres away.
Nelson is not only the geographical centre of the country but is also the centre for arts and crafts. The Nelson Arts Festival is part of the years festivities and the world renown annual 'Wearable Art Awards' started in Nelson but has since moved to the capital city of Wellington due to the events international success.
Many people believe Nelson has the best climate in New Zealand. It certainly is a contender for the most sunshine hours, receiving an annual average total of over 2400 hours per year. Most people's image of Nelson is sunny city with beautiful beaches and this is true. However, the city is surrounded by mountains on three sides which provides not only a sheltered climate but great views of these mountain. Activities such as skiing and trekking are as much a part of Nelson as swimming and sun bathing.
Attractions
Things to do and places to see in Nelson include visits to: Tahunanui Beach a safe family beach with a great cafe, the centre of New Zealand which can be accessed from the scenic Botanic Gardens; Founders Park with its collection of historic buildings, museums, and organic brewery; any one of the 23 Nelson Wineries; and Nelson Market which opens every Saturday morning.
The real attractions of Nelson are found in the surroundiing landscape. West of Nelson lies Abel Tasman National Park a gem of the New Zealand coastline. The park is renown as having one of the best walks in the country. The main walk is a 3 day trek that passes through native bush, stunning beaches, and capes with views of the spectacular coastline. Onroute through this pristine landscape, you get the chance to swim in the most scenic beaches in all of New Zealand. If you don't want to do a multi-day trek then you can take a sea taxi instead and be dropped off at a remote beach of your choice and spend the day bathing, swimming, and surrounded by nature. Alternatively, you could do part of the Abel Tasman Track and use a sea taxi.
Nearby Kahurangi National Park is a relatively new park that contains a huge wilderness of mountains, rainforest, and a rugged coastline. A seven day walk called the Heaphy Track is the best way to explore this area as it combines all the highlights. The track passes through alpine environments, ancient beech forests, tussock covered hillsides, giant trees, caves, river crossings, beaches, and a palm fringed coastline.
Lakes Rotoiti & Rotoroa in the Nelson Lakes National Park is also worth visiting. Containing great mountain scenery, there are also lakes and a number of great walks that show off the best this park has to offer. The deepest cave system in the Southern Hemisphere is located here too making this one of the world's great caving destinations.
Back to the New Zealand Cities Travel Guide →
This web site, logo, name, content, photos, and design are protected by international copyright law.
Original versions of our photos can be
purchased
& web versions can be shared subject to
conditions
.