Rotorua Travel Guide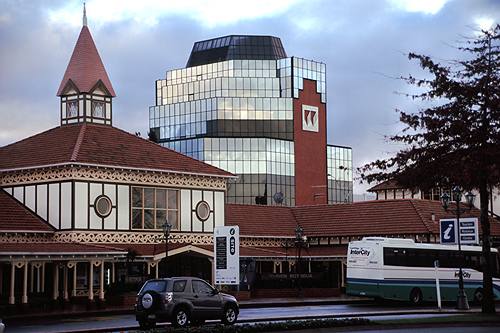 About Rotorua
Rotorua is a city located in the central North Island of New Zealand. Considered one of New Zealand's premiere tourist destinations, this world-renown city is famous for its surrounding volcanic attractions. Volcanic features include: active volcanoes, boiling mud pools, geysers, fumeroles, silica terraces, and hot pools including some suitable for bathing.There is also plenty of native bush walks, pristine lakes, world -class freshwater fishing, adrenaline activities, and a wide range of great accommodation.
When you arrive in Rotorua, you know you are in a place like no other. First off, there is the smell of sulfur in the air and the accompanied clouds of steam that indicate a thermal area is close by. Even within the city you can see hot rivers and streams as well as boiling pools of water and mud. Apart from these smaller volcanic attractions, there are four major thermal areas near the city. They are Te Puia, Waimangu, Waiotapu, and Hell's Gate.
Attractions
1) Te Puia is the most popular of Rotorua's thermal areas, which has more to do with location given that it is within walking distance of the city. Here you will find Pohutu geyser, which can spout as hight as 100 feet. Other attractions include a Maori village, bubbling hot mud pools, hot springs, and scenic native bush walks. This is also a great place to learn about Maori culture and dine on food cooked in a boiling mineral pool.
2) Waimangu is located between Rotorua and Taupo and was formed from a volcanic eruption on 10 June 1886. This volcanic reserve offers a walk through Waimangu Volcanic Valley with an optional cruise on Lake Rotomahana. Some volcanic features here are globally significant such as the biggest hot water spring in the world, Inferno Crater and Echo Crater which are two huge interconnected hot springs, and the famous sinter terraces. Rare plants also live among the volcanic features here.
3) Waiotapu near Waimangu, is recognised as the most colourful and diverse geothermal area in New Zealand. Visitors are treated to a wide range of features including colourful pools, terraces, geysers, mud pools, and boiling lakes. Champagne Pool and Lady Knox Geyser are the stand out features in this reserve.
4) Hell's Gate is considered New Zealand's most active thermal area and contains a number of unique attractions. Visitors can feel the soft hot water of Sulfur Lake and apply geothermal mud packs to their skin. Volcanic features include mud pools, the only accessible mud volcano in the country, sulfur fumeroles, and erupting waters and steam vents. The largest hot waterfall in the southern hemisphere is located here.
Less significant volcanic attractions are plenty but some are definately worth visiting. Polynesian Spa for example offers mineral spring pools of varying temperatures for bathing. Motutara (Sulphur Bay) is a great walkway starting near Government Gardens and passes by a number of geothermal springs and fumeroles.
Volcanic attractions aside, there are many other things to do. A visit to Government Gardens near the city centre offers not only beautiful gardens, but a museum and some thermal baths too. Te Puia Forest is a tract of exotic Califonian Redwoods with some easy walking tracks among the world's tallest tree species. Another easy walk is Rotorua Walkway which has winds its way around Rotorua.
Rotorua has 16 beautiful lakes. Most of these lakes are brimming with rainbow trout making this area a world famous fishing destination. These lakes are also popular holiday spots with camping sites, lodges, and other accomodation near by. In summer many come to swim in the lakes and boating is also popular. The most famous and accessible lake is Lake Rotorua of which the city gets its name. Part of the shoreline of the lake actually touches the CBD. Other lakes include Lake Tarawera which offers views of Mt Tarawera a volcano that erupted in 1886; the Green Lake and Blue Lake which are nestled among steep forested hills and have picnic areas with barbeques, and a number of other prominent lakes such as Lake Tarawera, Lake Rotoiti, and Lake Rotoma. Most of Rotorua's lakes are the result of calderas left behind from volcanic eruptions. Even today, you are likely to see steam rising from these lakes in places.
Paid attractions in Rotorua are plenty. The Skyline just outside the city offers a gondola ride up Mt Ngongotaha and which provides great views of Rotorua and the surrounding countryside. On the way down, you can take the Skyline Luge which is a fast paced go-cart on a downhill track. The Buried Village is a real excavated Maori settlement that was covered by ash in the 1886 Mt Tarawera eruption. Rainbow Springs is a natural park with native flora and fauna including the national bird of New Zealand, the kiwi. This park is also known for its pools of wild rainbow trout. The Agrodome is similar to Rainbow Springs except that it is an agricultural park. It has farm animals and exhibits of rural life in New Zealand today and in the past.
Back to the New Zealand Cities Travel Guide →
This web site, logo, name, content, photos, and design are protected by international copyright law.
Original versions of our photos can be
purchased
& web versions can be shared subject to
conditions
.