New Zealand Travel Information
New Zealand Location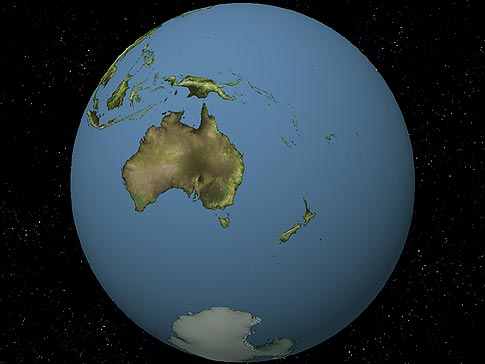 Sitting isolated in the southern Pacific Ocean lies New Zealand, about 1,600 kilometers or 995 miles east of Australia. The country is made up of two big islands, simply called the North Island and South Island, with a third main island named Stewart Island to the south. There are many other islands just off the coasts of these three main islands, and a number of island groups further out. These groups include: Chatham Islands, Auckland Islands, Kermadec Islands, and the Campbell Island group.
New Zealand Geography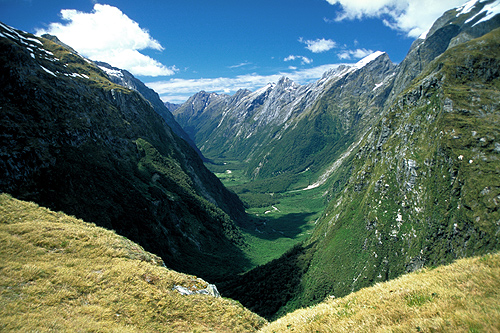 The total land area of all islands in the realm of New Zealand is 270,534 sq. kmh (104,454 sq. mls which is similar in size to each of the following: California, Colorado, Japan, Italy, or the United Kingdom.
New Zealand's geography includes famously scenic landscapes which includes the Southern Alps a mountain chain comparable to the European Alps in size. New Zealand is also one of the world's most active volcanic regions, especially in the central North Island as well as the Kermadec Island group to the north. The South Island is the biggest island in the country. It has a great diversity of landscapes including fiords, glaciers, huge lakes, raging rivers, and countless waterfalls including some of the highest in the world. Both islands have extensive rain forests, high country tussock, rural plains, and great beaches. New Zealand's coastline is very indented and irregular making it one of the longest national coastlines in the world.
Business Hours
Monday to Friday 8.00am - 5.00pm
Shopping
Monday to Friday 9.00am - 5.00pm
Late nights Thursday or Friday - 9.00pm
Saturday 10.00am - 4.00pm (most shops)
Sunday 11.00am - 3.00pm (most shops)
GST
(Goods and Services Tax)
Similar to VAT, all goods and services purchased in New Zealand are subject to a15% Goods and Services tax. The price of goods and services includes GST unless otherwise stated. You cannot claim back GST unless you are a New Zealand GST registered business. Duty free goods and international airfares In New Zealand do not include and do not charge GST.
Post Office
Monday to Friday 9.00am - 5.00pm
Some open on Saturday 9.00am - 12 noon

Convenience stores / Newsagents
Called dairies in New Zealand. They are usually open 7.00am - 10.00pm, seven days a week.
Petrol Stations / Service stations
Open 24 hours except for smaller petrol stations.
Electricity
An adapter configured to take Australia and New Zealand's 3-pin pug is necessary to operate electrical equipment. New Zealand's AC electricity supply is the same as Australia, at 230/240 volts (50 hertz).
Water
Tap (faucet) water in New Zealand is treated, fresh, and safe to drink. Water usually contains fluoride and chlorine. To prevent Giardia when travelling in the New Zealand wilderness, boil or treat river water before consuming.
Transport
The main airlines in New Zealand are safe and have a good reputation internationally. These include Air New Zealand, Qantas New Zealand, and Jetstar. Tranz Rail provides trains and the Cook Strait ferry service (Interislander). There are many good car hire services with competitive rates.
Communication
New Zealand has good Internet, landline, and mobilephone services. Lower end mobile phones are cheap to buy. Pre-pay sim cards from either Vodafone, Telecom, and 2 Degrees work in the majority of phones. International roaming is necessary to get coverage if you take your phone with you.
Telephone Codes
New Zealand Country Code: 64
Northland & Auckland: 09
Waikato & Bay of Plenty: 07
Gisborne; Hawke's Bay; Taranaki & Wairarapa: 06
Wellington: 04
South Island (all areas): 03
Mobiles: 02 (021 - Vodafone), (027 & 029 - Telecom), and (022 - 2 degrees).
Telephone Numbers
Emergency (police, ambulance, fire): 111
International Operator: 0170
International Directory Assistance: 0172
National Directory Assistance:018
Local Operator: 010

Passports
All visitors to New Zealand must carry a passport that is valid for at least 3 months beyond the intended day of departure.
Visas
A visa is not required for most visitors travelling to New Zealand for a stay of less than 3 months. Visit the New Zealand Immigration Service for extensive information on visa's etc.
Currency
New Zealand's currency is the dollar, (also called the Kiwi). Foreign currency can exchanged at banks and exchange kiosks in cities and international airports. Major credit cards are accepted and travellers cheques can be used at hotels, banks, and some stores. Visit the currency converter for latest exchange rates.
Banking:
Banks are open from 9am to 4.30pm Monday to Friday. Some banks open on Saturdays from 10am to 2pm. ATMs (Automatic teller machines) are widely available at banks, on main streets and in malls.
Hospitals and Doctors
Hospitals and medical centres are are not free for visitors. Medical or health insurance is important.
Driving
New Zealand drives on the left side of the road. Same as UK and Japan and the opposite side of the road to USA and Europe. A current drivers license from your home country or an international driving permit is good for 12 months. You must have your drivers license with you when driving. The speed limit on the open road is 100km/h unless otherwise sign posted. New Zealand has strict drink driving rules and random breath testing is undertaken regularly.
Tipping and Service Charges
New Zealand is not a tipping culture, but your contribution will be welcome if you decide to tip. New Zealanders might tip if they receive exceptional service. Most places do not charge a service charge. In most cases, the price advertised is the price paid.
International Departure Tax
A small departure tax is payable if you are over the age of 12 and departing one of the three international airports, (Auckland, Wellington, and Christchurch). Fee is not applicable to passengers in transit for less than 24 hours.
Customs Allowances and Quarantine
New Zealand has very strict customs and restrictions. Because of the country's isolation, many pests and diseases in other countries are not present in New Zealand. Visit the New Zealand Customs web site for more information
Clothing
The dress code in New Zealand is mostly informal. A jacket is recommended for a visit to quality restaurants or an evening show. A waterproof jacket or wind breaker and umbrella is recommened due to New Zealand's unpredictable weather.
Season
Best time to visit for a holiday during Spring, Summer, and most of Autumn, (September to April).
Winter in New Zealand is perfect for skiing. Best months for snow is July to September.
Weather:
The warmer months include December to March while it is cold between June and August. In summer, high temperature ranges between 20-30°C, while winter is between 10-15°C. It can get much colder in the mountains as well as Central Otago and the Central Plateau in the North Island.
Mean daily maximum Temp. C

Bright Sunshine Hours

Mean annual Rainfall mm

Jan

Jul

Auckland

23.8

15.1

2,071

1,106

Wellington

20.3

11.2

2,024

1,269

Christchurch

22.6

11.1

2,066

645

Dunedin

18.9

9.9

1,595

799
Top 10 places to visit in New Zealand →
---
This web site, logo, name, content, photos, and design are protected by international copyright law.
Original versions of our photos can be
purchased
& web versions can be shared subject to
conditions
.