Napier Travel Guide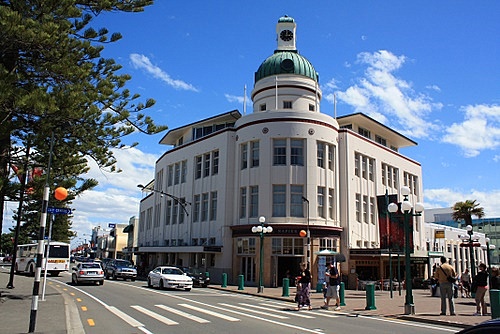 About Napier
The port city of Napier in the Hawkes Bay region is a popular holiday destination for tourists and locals alike. With its sweeping views of Hawkes Bay, warm dry climate, vineyards, orchards, art deco style buildings, and cafes, the city is like no other in New Zealand.
In 1931, the city suffered a devastating earthquake that destroyed most of the buildings. Reconstruction of the city took place when art deco was fashionable and the result is one of the great art deco cities of the world. The nearby town of Hastings also has great examples of art deco. Smaller towns like Taradale in between are creating a conurbation of shops, suburbs, and industry that rates as the seventh largest urban area in New Zealand. There is talk if this urban area becoming a single city.
Napier has one of the highest sunshine hours in all of New Zealand. Nearby beaches such as Ocean Beach offer a great place to cool down during the summer months. Walking along Napier's Marine Parade is popular as it shows off views of Hawkes Bay and allows you to walk all the way to Hastings.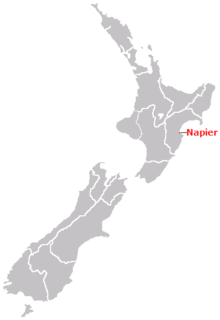 The warm dry climate supports a renown wine industry. Tours of vineyards and wine tasting are popular activities, while some wineries have great restaurants too. Orchards are also plentyful. Apples, pears, and stone fruits grown here are exported around New Zealand and the world.
Napier's main attraction is the town itself. Besides being a popular world destination during Art Deco Weekend, the town's charm, warm climate, and cafes attract people looking for a unique experience. Napier can be reached from both Auckland and Wellington in less than a day by car, while tourists usually make Napier a main stop if they are travelling on the Pacific Coast Highway, one of the main routes in the North Island.
Attractions
Tourist attractions in Napier include: Antique shopping, the National Aquarium which offers a walk through tunnel, and the Soundshell where you can enjoy a free concert. Nearby attractions include the Cape Kidnappers Gannet Colony, many vineyards, and Ocean Beach.
Back to the New Zealand Cities Travel Guide →
This web site, logo, name, content, photos, and design are protected by international copyright law.
Original versions of our photos can be
purchased
& web versions can be shared subject to
conditions
.