Hawkes Bay - photos
About Hawkes Bay
Hawkes Bay is a region that contains a large semi-circular bay called Hawke Bay, which extends for 100 kilometres. Starting south at Mahia Peninsula it reaches as far as Cape Kidnappers in the north. The bay itself is named Hawke Bay, whereas the region which surrounds it bears the bay's former name, Hawke's Bay.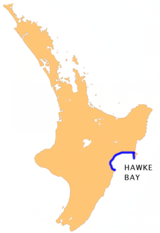 Hawke Bay is blessed with a sunny, mediterranean-style climate, but most of the bay doesn't have great swimming beaches with the exception of Mahia Peninsula in the extreme north. Just south of the bay, but still in the Hawkes Bay region, are some superb beaches, such as Ocean Beach, Waimarama, Kairakau Beach, Mangakuri Beach, Pourerere Beach, Aramoana Beach, Blackhead Beach, and Porangahau Beach. These beaches are situated on the otherside of Cape Kidnappers and are easy to access from Hastings.
Cape Kidnappers is a peninsula at the south-eastern extremity of Hawke Bay. It protrudes eight kilometre out into the Pacific Ocean. A large colony of Australasian Gannets reside at the headland. A world-class 18-hole golf course occupies part of the cape.
This web site, logo, name, content, photos, and design are protected by international copyright law.
Original versions of our photos can be
purchased
& web versions can be shared subject to
conditions
.