Tonga Islands
Tonga Map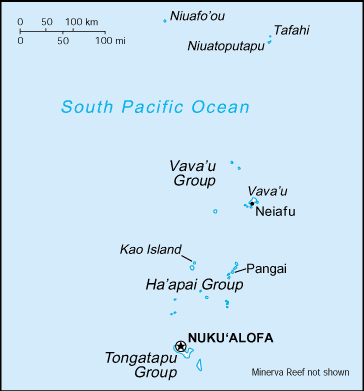 Click on an area of the map to learn more about that area.
About
Tonga is divided into three administrative island groups: Tongatapu, Ha'apai, and Vava'u. Each has a capital with Tongatapu's capital (Nuku'alofa) also being the capital of Tonga.
Vava'u is an isolated island chain containing one large island (Vava'u) and 40 smaller ones. The islands are in pristine condition and a paradise for swimming and diving. The capital Neiafu is the second largest settlemet in Tonga.
Ha'apai is the central group of islands between the Vava'u and Tongatapu groups. This archipelago includes islands, smaller islets, sandbars, and coral reefs. This group is renown for its world class diving among its many coral gardens.
The Tongatapu Group is southernmost island cluster of Tonga. Tongatapu Island the main island of this group is also the main island of Tonga and the location of the capital Nuku'alofa.
Video
---
This web site, logo, name, content, photos, and design are protected by international copyright law.
Original versions of our photos can be
purchased
& web versions can be shared subject to
conditions
.