New Zealand Volcanic - photos
About
New Zealand lies on the rim of the Pacific tectonic plate which is the same fracture in the Earth's crust that passes through Japan and the west coast of the United States. This fracture passes through both the North and South Islands wichh has created mountain ranges in both islands. However, the geological process for each island are different. In the South Island, the Pacific and Indo-Australian plates are grinding past each other. The resulting collisions over the eons created the Southern Alps. In the North Island, one techtonic plate is sliding under the other in a process called induction. The result is volcanic activity. Read more →
Mount Ruapehu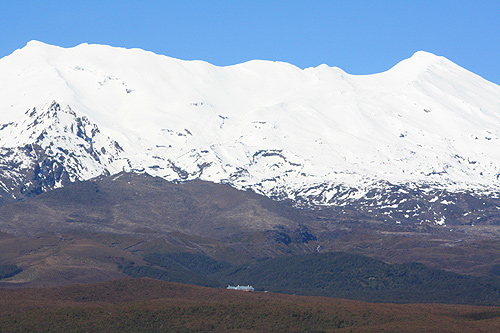 Mount Ngauruhoe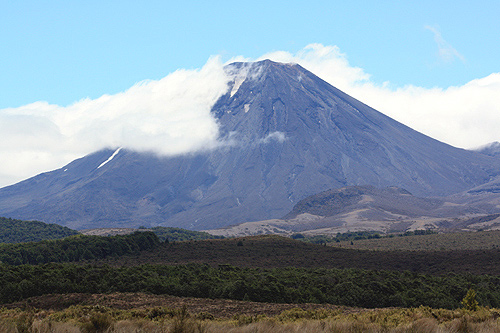 Tongariro Crossing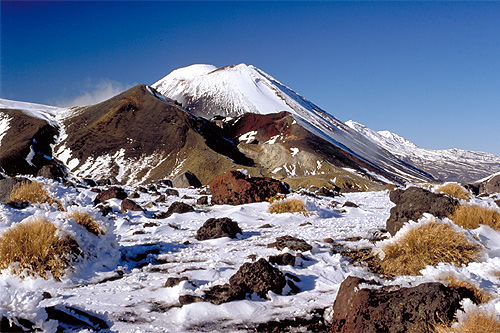 Mount Taranaki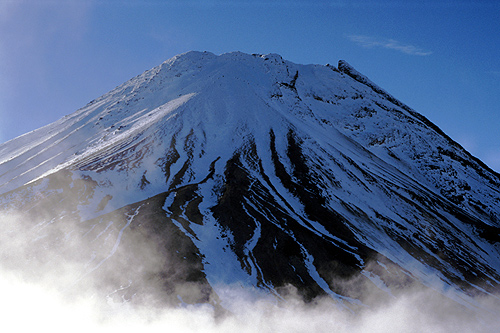 Mount Tarawera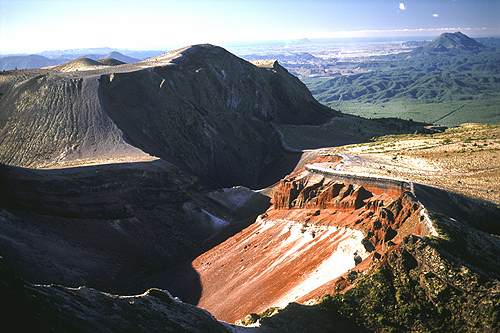 Auckland Volcanic Field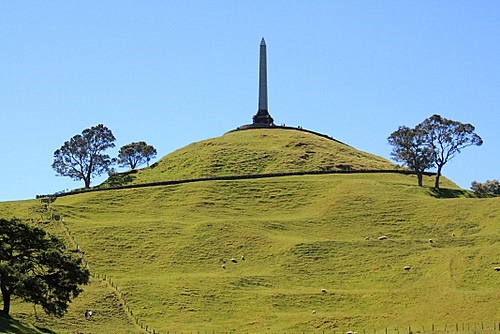 Te Puia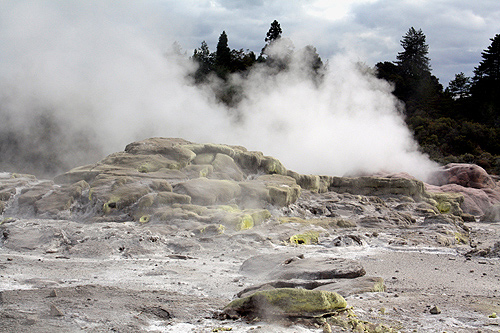 Waimangu Volcanic Rift Valley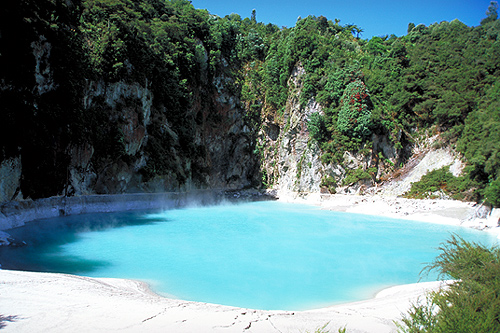 Wai-O-Tapu Thermal Wonderland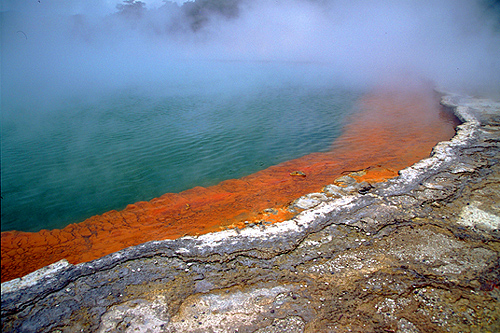 Craters of the Moon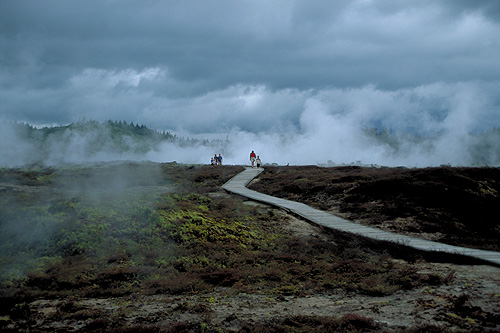 Orakei Korako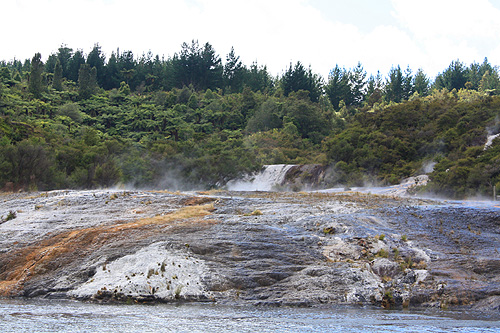 Lake Taupo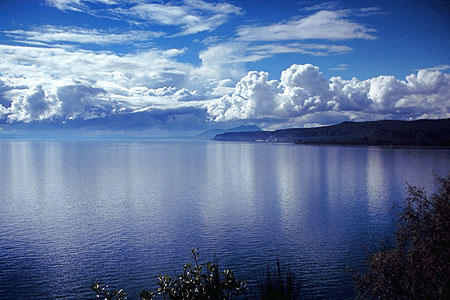 Pink and White Terraces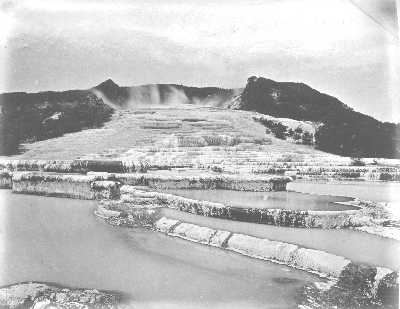 The volcanic attractions of New Zealand are renown world-wide and easily rival other volcanic sites in the world such as Yellowstone or Iceland. The vast majority of thermal activity is in the North Island and centred in and around the Rotorua and Taupo volcanic zones which are situated in the middle of the island. Mt Tongariro, Mt Ngauruhoe, and Mt Ruapehu are the 3 main volcanoes in this area. ALl three of these volcanoes erupt regularly with Mt Ruapehu last erupting in 1995 and 1996, while Mt Tongariro erupted twice in 2013. Ngauruhoe's last eruption was 1972.
To the west of the Central Plateau and close to the western coasline lies the lonely conical peak of Mt Taranaki. This volcano last erupted in the year 1755.
Further to the north in the Rotorua area lies Mt Tarawera. In 1886 this volcano blasted 2 cubic kilometers of lava and rock onto the surrounding countryside, killing 186 people as well as destroying New Zealand's most spectacular volcanic feature, the world famous Pink and White Terraces. Lake Rotomahana now occupies the site. Recently, these terraces have been recently discovered 60 metres (200 ft) below the lake floor in what is thought to be their original location.
North of Mt Tarawera and just off the Bay of Plenty coast is the island volcano of White Island. This volcano is continually releasing pressure and hence the name White Island, as it often has white steam and clouds surrounding it.
The biggest volcano in New Zealand and known as the world's most destructive in the last 70,000 years is a caldera filled with water called Lake Taupo. It is the largest lake in New Zealand and classified as one of Earth's super-volcanoes. Situated in the centre of the North Island, this volcano last erupted in the year 186 AD, and erupts approximately every 2000 years. This eruption was over 50 times the magnitude of the Mt St Helen's eruption. While Mt St Helens moved 3 cubic kilometers of earth, and Krakatoa (the biggest in recent times) in Indonesia moved 8 cubic kilometers, Taupo moved 110 cubic kilometers. This eruption is regarded as the biggest in the world in the last 5000 years. The skies and sunsets formed from this eruption lasted about six months and were noted by Roman and Chinese observers. About 26,500 years ago, Lake Taupo had a true supervolcanic event when the biggest and most destructive eruption in the world took place in the last 70,000 years. That event dwarfed the 186 AD eruption and ejected a massive 1170 cubic kilometers of earth giving it a Volcanic Explosivity Index rating of 8 which classifies this event as a true super-eruption.
Both the Coromandel Peninsula and the Auckland region including Auckland city have many monogenetic volcanoes. Fortunately it has been 600 years since the last eruption. These volcanoes each erupted for a period of weeks and up to a year and these type of volcanoes are known to erupt only once. The exception being Rangitoto Island a volcanic island clearly visible from Auckland which is New Zealand's largest city. It is an island volcanoe that rises 260 metres (850 ft) above the Hauraki Gulf. Eruptions of Rangitoto are significant events and it last erupted during Maori occupation of New Zealand according to their legends.
The city of Rotorua contains many thermal reserves and features including boiling mud pools, hot springs, geysers, thermal rivers, boiling lakes, steam vents (fumeroles), and volcanic terraces. Rotorua attracts tourists the world over because of these attractions. It is also New Zealand's most popular tourist attraction, partly because it is only a few hours drive from Auckland, New Zealand's biggest city.
View more
This web site, logo, name, content, photos, and design are protected by international copyright law.
Original versions of our photos can be
purchased
& web versions can be shared subject to
conditions
.