Mt Ngauruhoe - photos
About Mt Ngauruhoe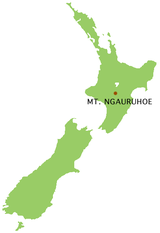 Mt Ngauruhoe is a conical shaped volcano in the Tongariro National Park. It is a young volcano compared with others in the Central Plateau area of the North Island. It lies next to the more famous Mt Ruapehu in the south which last erupted in 1995 and 1996 and to it's north is Mt Tongariro which erupted in 2012.
The first eruptions of Ngauruhoe are thought to have occurred only 2,500 years ago. Explosive and violent pyroclastic or ash eruptions took place in January and March 1974 and February 1975. The major eruption which took place on 19 February 1975 sent an eruption plume up to a height of 13 kilometres above the crater. During May 1954 a series of ash and lava eruptions began which became renown for the largest amount of lava observed in New Zealand in recent times. In February 1949 lava flowed over the lowest part of the crater rim down the north west side into the Mangatepopo Valley. In July 1870 the crater of Ngauruhoe filled with lava which spilled down the northwestern sides of Ngauruhoe.
Mt Ngaurahoe doubled as Mt Doom in the Lord of the Rings trilogy.
This web site, logo, name, content, photos, and design are protected by international copyright law.
Original versions of our photos can be purchased & web versions can be shared subject to conditions.