Ohakune - photos
About Ohakune
Ohakune is a ski resort town in the Central Plateau of the North Island of New Zealand. Located at the southern edge of Tongariro National Park, the town is a favourite for skiers, visitors, and tourists.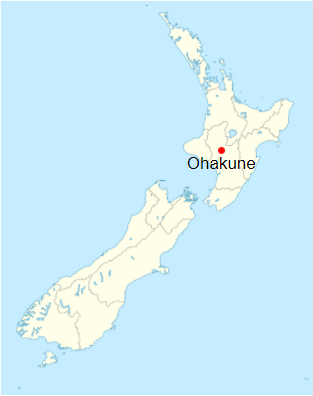 The closest skifield to the town is Turoa which is accessible from Mountain Road just outside the town. Ascending the snowy slopes of Mount Ruapehu, the road passes through scenic forests then past barren slopes until it reaches the skifield and snow. Other skifields further afield but still on Ruapehu can be accessed near Ohakune include Whakapapa on the western slope and Tukino on the eastern side of the volcano.
Just below Turoa skifield are a number of scenic walks and waterfalls on the lower slopes of the volcano. Views of the snowy peak of Ruapehu appear often through the trees. Above the forest, you can get views of neigbouring volcano Mt Ngaruhoe. This volcano is also visible on the eastern and western plains of the national park and from the main roads that pass through.
Outside of tourism, Ohakune is a rural town surrounded by farms with livestock and crops. Staying true to its rural roots, the town has a giant carrot monument near its entrance. Carrots were first grown in Ohakune back in the early 1920s and helped feed US military troops stationed in Wellington during World War II.
This web site, logo, name, content, photos, and design are protected by international copyright law.
Original versions of our photos can be
purchased
& web versions can be shared subject to
conditions
.