Mount Taranaki - photos
About Mount Taranaki
Mt Taranaki in the Egmont National Park stands alone from the other main volcanoes in the North Island. This near perfect conical shaped volcano is 2518 metres high and located near the western coastline, while most other volcanoes are found in the centre of the island. The Maori named the mountain 'Taranaki' and Captain Cook named it 'Egmont' some three centuries later after the Earl of Egmont. In 1881 the provincial government declared a 9.6 km radius forest reserve from the mountain's summit, covering 29,000 hectares. It accumulated another 2400 hectares by the time it became New Zealand's second national park on 23 October 1900.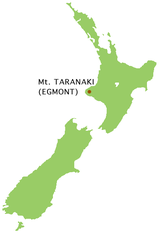 Mt Taranaki is the most climbed mountain in New Zealand. It is also surrounded by an area of pristine temperate rainforest. As you head up the slopes of the mountain, this rainforest gives way to sub alpine shrubland, which in turn gives way to bare rock that becomes snow capped in winter.
There are a number of scenic walks such as the one to Dawson Falls. Another popular walk takes you to Wilkies Pools, a series of rock pools connected together by small waterfalls. East Egmont entranced at Stratford has a ski field and a walk to the unbelievably lush Goblin Forest.
North Egmont receives seven metres of rainfall per year and in some years it even exceeds the rainfall of of Milford Sound which is known as one of the wettest places on Earth.
---
This web site, logo, name, content, photos, and design are protected by international copyright law.
Original versions of our photos can be
purchased
& web versions can be shared subject to
conditions
.