Lake Taupo - photos
About Lake Taupo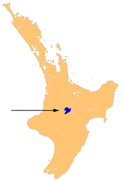 Lake Taupo is the biggest lake in New Zealand. The lake is actually the crater of the the world's most destructive volcano. The volcano had the biggest eruption in the world in the last 5000 years around the year 186 AD and approximately 26.500 years ago it had the biggest eruption in the last 70,000 years.
To this day, the shore of the lake is littered with poumice stones from past eruptions. The neighbouring central plateau area contains numerous smaller volcanoes that regularly erupt.
Lake Taupo is the source for the the longest river in New Zealand, the Waikato. Numerous rivers feed the lake including: the Tauranga Taupo River, the Tongariro River, and Waitahanui River. The lake is noted for its abundant stock of trout which attracts fishermen the world over.
Taupo township on the shore of Lake Taupo caters for tourists with excellent accomodation options and holiday homes. The town also offers a variety of good restaurants, cafes, and an excellent help at the Tourist Information Centre where you can book a tour or get general information and assistance.
Author & photographer: David Johnson (Virtual New Zealand). Providing a credit or link is appreciated.
Our content: logos, site names, text, photos, and website design are protected by international copyright law.
Original versions of our photos can be purchased / licensed & web versions can be shared subject to conditions.