Waikato River - photos
About Waikato River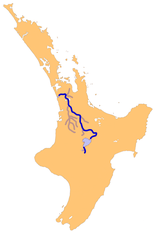 The longest river in New Zealand is the Waikato. It starts as snow melt on Mount Ruapehu and eventually empties into the Tasman Sea, a journey of 425 kilometres (264 miles). Onroute, the Waikato River encampasses some well known natural attractions including Lake Taupo which is New Zealand's largest lake, the powerful Huka Falls, passed a number of thermal areas such as Orakei Korako, then through the Waikato Plains (which were formed by the river) and into the Tasman Sea at Port Waikato just south of Auckland.
The river carries volcanic ash from the Central Plateau area around Mt Ruapehu and deposits this ash through Lake Taupo and throughout the Waikato Plains to the north. As a result, these plains are the most productive dairy area in the world due to the nutrient rich soil.
This web site, logo, name, content, photos, and design are protected by international copyright law.
Original versions of our photos can be
purchased
& web versions can be shared subject to
conditions
.