New Zealand Adventure Activities
Adventure / Adrenalin / Sport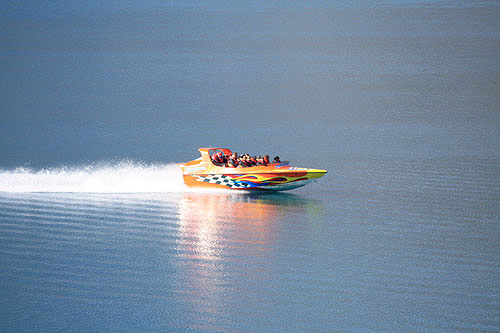 New Zealand's landscape and temperate climate lends itself to outdoor activity. The country is renown for its range of adventure pastimes like bungee jumping, jet boating, white water rafting, and skiing. But adventure means different things to different people and the best aspect of the New Zealand adventure scene is that it provides activities rated from 'soft' to 'extreme' - from hiking and water-skiing to mountain climbing and caving.
The adventure tourism industry makes the most of having a country surrounded by sea, criss-crossed by rivers and lakes, covered in native bush, and with a central spine of spectacular snow capped mountains. There's something for all who enjoy the outdoor lifestyle and there is a special sense of freedom this relatively sparsely populated land provides.
Cycling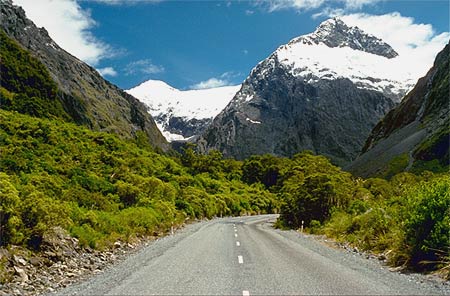 New Zealand's North Island is a great place for cycling but the South Island is one of the best road cycling destinations in the world.
South Island cycle touring provides a good mix of people in little towns and cities where you need them, then long peaceful stretches of almost uninhabited countryside and spectacular scenery. New Zealand roads are generally well-sealed and maintained.
Popular routes in the South Island include the relatively easy Marlborough Explorer at the top of the South Island; the six-day West Coast ride from Wanaka to Greymouth; the Southern Alps circuit (including the Kaikoura Coast/Hanmer Springs ride); the Catlins Coast ride (Dunedin to Invercargill); the Southern Scenic Route; the Canterbury Hinterland ride (flat); and the Mackenzie country ride.
The ideal time for cycling is from February to April, when the weather warmer and more settled and also when New Zealand's school holidays are over, and tourist destinations are less crowded. Another option is October/November, but the weather tends to be less settled in spring than in autumn. Despite the South Island's mountains, gradients tend to be easier in the South Island than the North. That is due to the hilly nature of the North Island while South Island roads generally skirt the main mountainous area of the Southern Alps.
Many people prefer to cycle unguided, but the South Island has some excellent guided tour cycling operators if you prefer the assistance of local knowledge and to be dropped off and picked up at certain destinations giving you the best of the many cycling routes on offer.
Fishing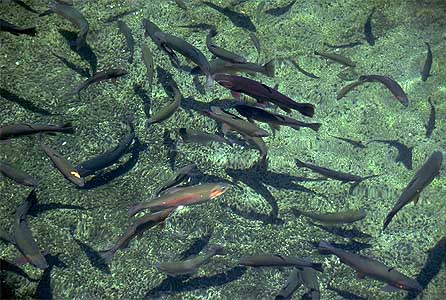 In a country with such a vast coastline and hundreds of rivers and lakes, it is little wonder that fishing is a popular pastime. Anglers come from all over the world to try their luck in the crystal-clear waters.
For freshwater fishing, New Zealand offers the best trout fishing in the world, from both the volcanic Taupo and Rotorua regions in the central North Island, to the glacial-formed lakes of west Otago and Fiordland. Lake Taupo, alive with brown and rainbow trout, is probably the best freshwater fishing in New Zealand.
Sea fishing guarantees a good catch too. With strict regulations on daily allowable catch, this ensures a sustainable resources. Sea fishing runs the gamut from fishing off wharves to big game fishing in the Bay of Islands.
Golf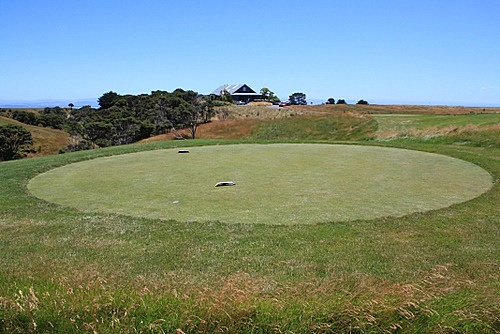 A golfing vacation in New Zealand can take you to places set on beautiful coastlines, volcanic landscapes with hot springs and geysers, between mountains and lakes, and all in an unspoiled, uncrowded country.
It is often said that the North Island looks like one giant golf course with its lush green grass hills everywhere. The South Island has golf courses with views that have to be seen to be believed. New Zealand's climate ranges from sub-tropical in the north to temperate in the south with abundant golf courses found in every region of New Zealand. For the cost of a local beer to entry in some of the world's best courses, you will be spoilt for choice.
Hiking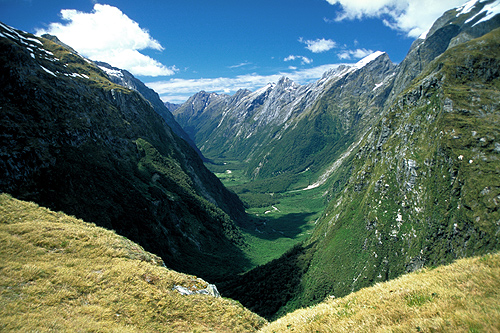 New Zealand's great walks are world-renown. These include the likes of the Milford Track in Fiordland, the Routeburn Track, the Kepler,, the Heaphy Track, Abel Tasman Coastal Track, the Tongariro Crossing. But there is much more to walking or hiking in New Zealand than these famous tracks.
There are in fact hundreds of walkways around the country, including heritage trails, with walks of up to a day's duration to be found even in urban areas. All New Zealand cities have great native bush walks nearby, meaning you're never far from peace and relaxation.
Whatever a person's fitness level, there's a accessible and suitable walk on offer in a country of people that relishes the opportunity to get outdoors whether that is a leisurely forest walk to a trek up a live volcano.
Skiing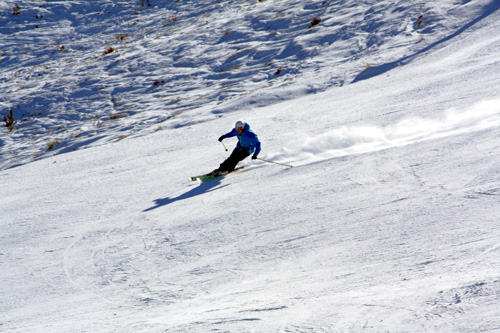 While the Northern Hemisphere is in summer, New Zealand offers skiing in the Southern Hemispehere. Depending on the resort, you can ski and snow board from late May to mid-November on runs that cater for all skill levels. South Island fields usually get going in early June and close in early October. North Island slopes from late June to November.
All of New Zealand's ski areas are treeless with wide-open slopes and a good blend of marked trails and undefined terrain. There is plenty for those that crave endless fields of virgin powder in spectacular high country settings.
The country's biggest and busiest ski area is Whakapapa on the north western slopes of Mt Ruapehu, an active volcano. The Tasman glacier is New Zealand's longest glacier and skiers can take a helicopter to the top and ski down while taking in breathtaking scenery. Queenstown is an all year round resort town situated below the Remarkables Mountains and is an ideal town to access many ski fields including The Remarkables, Coronet Peak, Cardrona, and Treble Cone.
Commercial ski fields are listed below, sorted by location, (North to South).
| | |
| --- | --- |
| Ski Field | Season |
| Whakapapa | Mid June to mid October |
| Turoa | Mid June to mid October |
| Mt Lyford | Early June to mid October |
| Hanmer Springs | Early June to late October |
| Temple Basin | Late June to mid October |
| Craigeburn | Laste June to late October |
| Porter Heights | Early July to late September |
| Mt Olympus | Mid July to mid October |
| Mt Hutt | Early June to late October |
| Mt Dobson | Early July to mid October |
| Roundhill | Early June to early October |
| Ohau | Early July to mid October |
| Treble Cone | Late June to early October |
| Cardrona | Mid June to early October |
| Waiouru Snow Farm | Mid June to early October |
| Snowpark | Early June to early October |
| Coronet Peak | Early June to mid October |
| The Remarkables | Late June to early October |
NEXT: Learn about New Zealand's amazing landscapes →
This web site, logo, name, content, photos, and design are protected by international copyright law.
Original versions of our photos can be
purchased
& web versions can be shared subject to
conditions
.