Auckland Travel Guide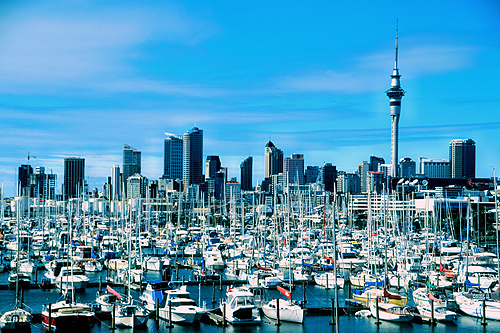 About Auckland
Auckland is a big city in area compared to its population. It is about one-third the size of London but has only one eighth of the population. Despite not being a high density city, the population still amounts to nearly one third of the total population of New Zealand which is more than the population of the whole South Island.
Auckland is also the name for the encompassing region which lies between Northland to the north and Waikato in the south. East is the Pacific Ocean and west is the Tasman Sea which is the body of water between New Zealand and Australia.
The city itself is the biggest in New Zealand and has the biggest population of Polynesians in the world. That includes a sizable Maori (native) population as well as a large contingent of Pacific Islander immigrants from eslewhere in Polynesia.
Auckland's twin city is Sydney in Australia and it is not hard to see the similarities. Both Auckland and Sydney each have a very tall observation and telecommunications tower, great beaches, a spectacular harbour, a dominating harbour bridge, and even a desirable group of suburbs dubbed the North Shore on the other side of their harbour bridges. However, the simmilarities stop there because Auckland is also unique among the world's cities.
Auckland is built on a volcanic field where 50 or so volcanic cones are interspersed in and around the city's suburbs. Well known volcanoes include Mt Victoria, Mt Eden , Mt Wellington, and One Tree Hill. These cones are often nature reserves and parks which offer solice away from the city as well as 360 degree views below. They also act as directional markers as they protrude above most buildings in the sububs.
Auckland is called the "City of Sails" and boasts more boats per head of capita than any other city in the world. Westhaven Marina is the biggest marina in the Southern Hemisphere and is conveniently located next to many fine restaurants where you can step off your yacht and wine and dine in a matter of minutes. Testament to the city's love of yachting is the fact that it has hosted the prestigiuos Americas Cup twice.
Attractions
Points of interest in Auckland's CBD include: Auckland War Memorial Museum, New Zealand National Maritime Museum, and Auckland Art Gallery. The Skytower is a must see as it offers spectacular 360 degree views over the city, the harbour and islands, and out to the western hills.
Attractions worth seeing outside the city's CBD include: the Auckland Zoo and MOTAT (Museum of Transport and Technology) both at Western Springs. The Stardome Observatory on One Tree Hill is a good place to visit. Located on the lower slopes of One tree Hill, you could combine this with a walk to the top of this volcanic cone. Auckland Regional Botanic Gardens in Manurewa has over 10,000 plants from around the world. Manurewa itself is one of the most multi-cultural suburbs in the country. Kelly Tarlton on scenic Tamaki Drive allows visitors to see New Zealand's unique aquatic life up close. It is also moments from Mission Bay, a great beach with many cafes. Ponsonby an inner city suburb is considered Auckland's hippest strip. The area offers heritage walks, art, cafes and restaurants, bars, and great nightlife. Otara Flea Market in the Otara Shopping Centre in South Auckland is a Polynesian market selling arts and craft as well as typical food and cuisine from Polynesia.
Auckland's North Shore is worth visiting. Besides being a desirable place to live, the area has many great beaches. Residing on the otherside of the harbour bridge many beachside suburbs offer great shopping centres with Takapuna being the most famous. Devonport in the North Shore is less about shopping and more about great restaurants and bars. It too has a nice beach and you can take a ferry from bustling downtown Auckland and arrive in the solitude of Devonport in a mere 12 minutes. Devonport is a great place to visit day or night. Nearby is Mt Victoria and a walk up this volcanic cone offers great views of Auckland Harbour and the Auckland CBD on the otherside of the harbour.
The most popular shopping area in Auckland is New Market which has every type of shop imaginable including hundreds of stores from top designer labels. Newmarket is located next to Parnell the oldest suburb in Auckland. Parnell Village has historic buildings and great restaurants and cafes. Access to the Auckland Domain from Parnell can be as little as a 10 minute walk. The Domain is a park encompassing some 75 hectares and offers solitude, picnic areas, walks, and the Auckland War Memorial Museum.
West Auckland is is situated conveniently near the rugged west coast beaches with some beautiful suburbs located in the densely forested Waitakere Ranges. This part of Auckland is where the Oscar winning movie 'The Piano' was filmed and the popular TV series 'Hercules' and 'Xena'. The western coast is isolated and has a number of naturally beautiful beaches such as Piha, Muriwai, KareKare, and Bethells.
South Auckland near the airport contains industrial areas and sprawling suburbs including Manukau which was once its own city but has been inundated by the sprawling mass of Auckland suburbia.
Auckland is the fastest growing city in New Zealand and this guarantees that it will remain the most populous city in New Zealand.
Back to the New Zealand Cities Travel Guide →
This web site, logo, name, content, photos, and design are protected by international copyright law.
Original versions of our photos can be
purchased
& web versions can be shared subject to
conditions
.