Queenstown Travel Guide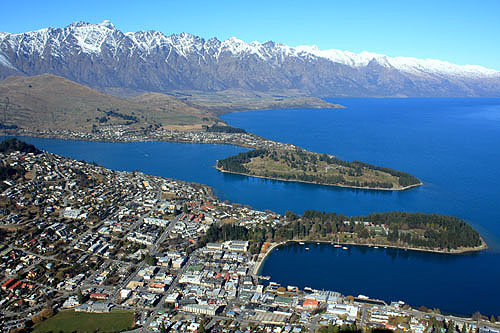 About Queenstown
Queenstown is an alpine resort town that offers year round activites and action for tourists and adrenalin junkies alike. Sitting on the shore of Lake Wakatipu within the spectacular Southern Alps, Queenstown is New Zealand's premier tourist destination and one of the best winter playgrounds in the southern hemisphere..
Queenstown is known as the action capital of the world. The sheer amount of adrenalin activities on offer is astounding with the two most popular being New Zealand inventions, i.e., bungee jumping and jet boating. Other activites include parapenting, white water rafting, hiking, four wheel drive treks, scenic flights, etc.
Skiing is Queenstown's most popular pastime however, and a number of world class ski fields are open during the northern hemisphere's summer. Ski fields here are also unique in that there are no trees in the alpine areas.
Queenstown has great shopping and dining and is recognised as the world's southern-most wine and cuisine centre. Tour operators and travel agents are plenty and make booking that trip, activity, or adventure in the surrounding area very easy.
Attractions
A trip that comes highly recommended is a sightseeing flight or drive through nearby Fiordland National Park. Everything about Fiordland is epic. Looking uncannily like Jurassic Park, it has been the backdrop in movies like Lord of the Rings and The Lost World. Consisting of 14 magnificent fiords and countless hidden valleys, the landscape consists of steep snow capped mountains with some rising nearly one mile out of the ocean. This topography is clothed in lush temperate rainforest dissected by hundreds of waterfalls leaping off cliff walls and tumbling into the fiords and valleys below. The area has been given World Heritage status in recognition of its outstanding natural beauty.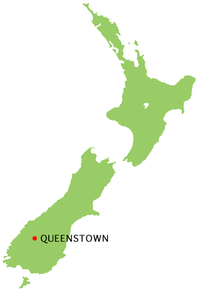 Queenstown is a mecca for hiking or tramping (as it is known in New Zealand). The most famous walks are in Fiordland and include such gems as the Milford, Routeburn, Kepler, and the Greenstone. There are also many smaller walks that take you to areas of interest. Cruising is also popular. A cruise on Lake Wakatipu offers great views of Queenstown and the surrounding mountains. Milford Sound in Fiordland offers a number of cruises through the fiord and out to the Tasman Sea. On route are spectacular waterfalls, dolphins, and seals. Doubtful Sound the biggest fiord offers cruises too. This fiord has 365 islands one for each day of the year. Other popular activities in or near Queenstown include: Fishing, scenic flights, and even wine tasting.
Neighbouring Wanaka on the shoreline of Lake Wanaka makes for a good day trip. Arguably as spectacular as Queenstown, this place is less touristy. There are two main ways to get here, but the Crown Range Road being slightly longer is the most scenic. Make sure you give yourself time for photo stops and humorous encounters with New Zealand's mountain parrot, the kea.
Historic Arrowtown just 20 minutes drive from Queenstown is worth visiting. There is no lake here, but this town has changed little from the the gold rush days in New Zealand's early European history. Most of the gold may be gone but tourism has been a worthy replacement. Along the main street is a wide array of restaurants and cafes as well as many shops catering for tourists.
Back to the New Zealand Cities Travel Guide →
This web site, logo, name, content, photos, and design are protected by international copyright law.
Original versions of our photos can be
purchased
& web versions can be shared subject to
conditions
.