Tauranga Travel Guide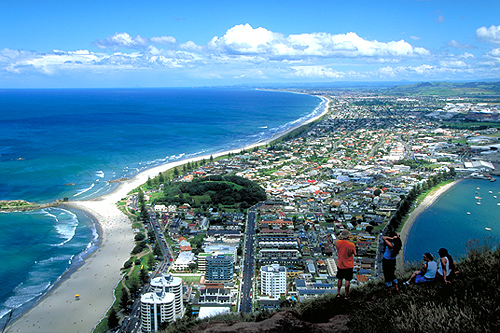 About Tauranga
Tauranga is the major urban centre of the Bay of Plenty region. It is 85 km north of the tourist town of Rotorua. Located at the head of Tauranga harbour, the city is blessed with great beaches coupled with a sunny and warm climate. Tauranga translates as 'sheltered anchorage'.
The scenic nearby town of Mount Maunganui is connected to Tauranga by a bridge and is more or less considerd part of Tauranga today. Mount Maunganui has the best beaches, great cafes, and a spectacular walk to the top of the mount which provides stunning views of the city and coastline below.
Attractions
Tauranga and Mount Maunganui are a favourite holiday spot for Kiwis and also a popular place to retire. There is no secret as to why with hundreds of kilometres of coastline dotted with idyliic beaches including: Main Beach, Papamoa Beach, Pilot Bay, Tay Street, and Waihi Beach.
Tauranga is also located next to the scenic Coromandel Peninsula itself a place of beautiful sandy beaches, but with the addition of large areas of native forest. Further inland from Tauranga is the tourist town of Rotorua which is the most famous place in New Zealand for volcanic attractions.
This web site, logo, name, content, photos, and design are protected by international copyright law.
Original versions of our photos can be purchased & web versions can be shared subject to conditions.