Coromandel - photos
About Coromandel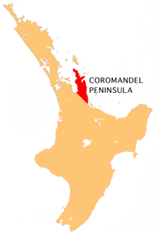 The Coromandel Peninsula is a densly forested volcanic peninsula located south-east of Auckland and is the perfect getaway for those wanting to escape the hustle and bustle of Auckland city.
This area of New Zealand is famous for its beautiful beaches and many ancient volcanoes that are covered in picturesque temperate rainforest. Other parts of the Coromandel where the forests have been cleared have been converted in farms and these farms along with tourism are the backbone of the Coromandel economy.

Must see places on the peninsula include Hot Water Beach. As the name suggests, thermal heat rises through the sand and heats up the water. Try digging a hole in the sand at high tide and when it fills up with water, you have natures equivalent of a spa. Other great beaches include Cathedral Cove and Whangamata.
Another place of interest is the Coromandel Forest Park. The park contains many walks which take you through the densly forested terrain with the chance to see the tallest tree ferns in the world.
This web site, logo, name, content, photos, and design are protected by international copyright law.
Original versions of our photos can be
purchased
& web versions can be shared subject to
conditions
.