Taupo Travel Guide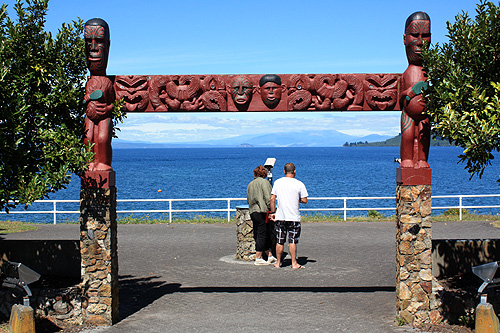 About Taupo
Taupo is a popular place for international and local travellers alike. It is conveniently positioned on State Highway 1, the country's main highway. It is also midway between Auckland and Wellington, the two biggest cities on the North Island making it a popular stopover or a place for a meal break while on the road. Taupo certainly takes advantage of this by providing many fine eateries, cafes, bars, and great accomodation options.
Taupo is however a fine destination in its own rights as it is well endowed with natural attractions. The area has a number of thermal reserves, the mighty Waikato River which is the longest in the country, and Lake Taupo the biggest lake in New Zealand.
Attractions
Lake Taupo specialises in water based activities like boating, swimming, and bathing. Adrenalin activites based on or around the lake include: jet boating, windsurfing, water skiing, wake-boarding, parasailing, sky diving, and bungee jumping. The lake is also one the world's premier trout fishing spots with a number of chartered expeditions on offer. In addition to the lake, the longest river in New Zealand (the Waikato) offers fantastic trout fishing. This river is also the longest navigatable river in New Zealand making it perfect for a leisurely cruise or even a sprint in a jet boat. The most famous attraction on the river is the Huka Falls which produces enough water per minute to fill 5 olympic sized swimming pools.
Within the Taupo district are two main thermal areas. Craters of the Moon is located 2km from State Highway 1 and offers a one hour walk through an eerie landscape of steam, craters, boiling mud and water, with fumeroles. The other area called Orakei Korako is located on the banks of the Waikato River. It is a natural thermal wonderland offering silica terraces, hot springs, geysers, and bubbling mud pools. The highlight is Ruatapu Cave which descends 120 feet down to a thermal hot pool. There are also smaller thermal sites around Taupo including a number of thermally heated rivers and waterfalls. Even the Waikato River has areas of steam rising up from thermally heated spots. About 4 minutes from Taupo is AC Baths a commerical venture that provides warm to hot pools for bathing including mineral pools and swimming pools. Volcanic Activity Centre in the main town is a good place to learn about the Taupo Volcanic Zone with information historical eruptions including the biggest super eruptions on Earth in the last 70,000 years.
A number of scenic flights are available over the lake and a scenic area called the Central Plateau or Volcanic Plateau. Part of this area is contained in Tongariro National Park which is worth visiting on foot. By car it is less than an hour from Taupo. The landscape in this park is unique with varying native flora including tussock plains and lush Beech forests. The highlight are the volcanoes of which 3 are prominent. These include Tongariro, Ngauruhoe, and Ruapehu. These 3 volcanoes are still active and do erupt from time to time even as recently as this year. The best ski fields in the North Island are located on the slopes of Ruapheu which is the biggest volcano and the highest mountain in the North Island. Besides the novelty of skiing on a live volcano, there are also no trees on the ski runs. Even if you don't want to ski, a drive up Ruapehu offers spectacular scenery and views. If you have never been to this area, you may already have seen one of these volcanoes as Mt Ngauruhoe featured as Mt Doom in the movie, 'Lord of the Rings'.
Back to the New Zealand Cities Travel Guide →
This web site, logo, name, content, photos, and design are protected by international copyright law.
Original versions of our photos can be
purchased
& web versions can be shared subject to
conditions
.