Blenheim - photos
About Blenheim
Blenheim is a city in the Marlborough region located near the South Island's northern coast. Blenheim sits within a plain, but it is surrounded by hills and mountains, so scenic views including snow capped peaks are always present.
The Blenheim district is one of the sunniest areas in the country. Summers are usually hot and dry with crisp winters that are often sunny. This climate supports the centre of New Zealand's wine industry. With growing international acclaim wines such as Marlborough Sauvignon Blanc can be enjoyed on a wine tasting tour or with an evening meal in one of many restaurants found here.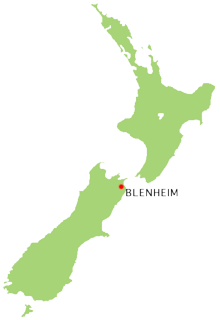 Besides the wine industry, the Marlborough region has one of the gems of the New Zealand coastline, the popular Marlborough Sounds. This area of complex waterways is a haven for boating and fishing. Other activites here include swimming with dolphins or walking one of the many fine tracks through the temperate rainforested hills.
South of Blenheim and in the neighbouring Canterbury Region is the tourist town of Kaikoura. It is here where the biggest mountain range, the Southern Alps meets the east coast. Whale watching tours operate all year round here.
This web site, logo, name, content, photos, and design are protected by international copyright law.
Original versions of our photos can be
purchased
& web versions can be shared subject to
conditions
.