Arthurs Pass - photos
About Arthurs Pass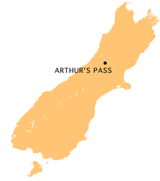 Arthurs Pass is the name of a route through the Southern Alps connecting Christchurch in Canterbury with the Westcoast region. Arthurs Pass is also the name of a town onroute and a national park that was setup to preserve the natural beauty of this area.
Within the park lies great diversity of landscapes and flora. Starting on the eastern side. beech forests are prevalent. As the pass climbs higher forest gives way to tussock basins. Once through the pass luxuriant rain forest on the western side become dominant.
Highway 73 runs through the park, and the Southern Alps. Arthur's Pass township, is a popular base for travellers who wish to spend some time exploring the area.
This web site, logo, name, content, photos, and design are protected by international copyright law.
Original versions of our photos can be purchased & web versions can be shared subject to conditions.