New Zealand Southern Alps - photos
About New Zealand Southern Alps
New Zealand's largest region of mountains is known collectively as the Southern Alps. This range extends almost the entire length of the South Island along the western coastline and toward the centre of the island. These alps also reach the east coast at the small fishing town of Kaikoura. The highest peaks in the Southern Alps are found in Mount Cook National Park with Mount Cook itself being the highest peak at 3,724 metres (12,218 feet). The chain runs for a 650 kmw hich is impressive when you consider that the Southern Alps are wholly contained in the South Island which itself is only 840 km long.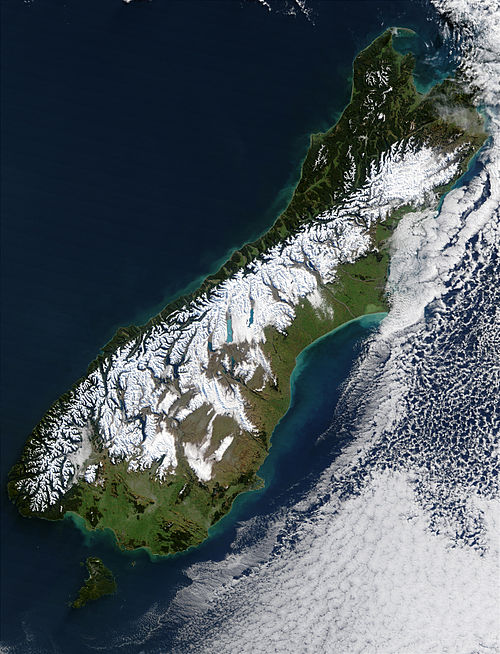 The Southern Alps separate the more populated eastern side of the South Island from the narrow and isolated west coast. Due to the prevailing winds in New Zealand being westerly, moisture laden winds slam into these alps and deposits huge amounts of moisture on the west coast. In the form of rain in the lowlands and snow on the mountains, the result is lush rainforests and raging rivers on the west. East of the range lie inland areas of semi-desert that receive as little as 400mm of rain per year. To qualify as desert, rainfall must be less than 250mm.
There are about 3,000 glaciers in the Southern Alps larger than a hectare. The longest is called The Tasman Glacier which is 29 kilometres (18 miles) long. Some helicopter tours offer to take you to the top of this glacier so you can ski back down.
There are a number of passes that provide access though the Southern Alps. These passes are vital transport links that connect the east and west coasts of the South Island. They include: Lewis Pass, Arthurs Pass, Haast Pass, and Lindis Pass. The main coastal route on the west coast affords great views of the Southern Alps as does the road through to Milford Sound in Fiordland National Park further south.
Another route, the inland roads from Christchurch to Queenstown shows off stunning views of snow capped mountains and glacial lakes. During summer, you will also see a profusion of colourful lupins that give the area an even more picturesque look. The skies in this part of the Southern Alps are often clear year round, so there is a good chance of taking some great photos. These clear skies also make this part of New Zealand one of the best places on the planet for viewing stars at night. This area has been internationally recognised with the creation of a 4,300 square kilometre 'International Dark Sky Reserve' at the Aoraki/Mount Cook Mackenzie region. This is the largest reserve in the world of its type.
See a list of all New Zealand mountains over 3000 metres →
---
This web site, logo, name, content, photos, and design are protected by international copyright law.
Original versions of our photos can be
purchased
& web versions can be shared subject to
conditions
.