Mt Cook National Park - photos
About Mt Cook National Park
Mt Cook is known as Aoraki by the Maori. It stands at 3,754 metres, which makes this mountain the highest in New Zealand, Australasia, and Oceania. Sir Edmund Hillary, (a New Zealander), was the first man to climb Mt Everest. He gained his mountaineering experience on Mt Cook.
The mountain consists of three peaks, the Low Peak, Middle Peak, and High Peak. Tasman Glacier, the longest glacier in New Zealand lies to the east while Hooker Glacier is in the west.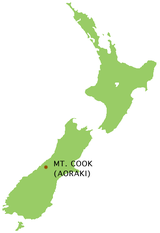 Mt Cook is protected within Mt Cook National Park. This park has a number of other significant mountains including Mt Tasman the second highest mountain in the country. As you can imagine, there are plenty of places for climbing, but for the average traveller, there are miles of tracks ranging from easy to difficult.
Scenic flights are a great way to see this alpine expanse with one favourite trip being a heli-skiing adventure starting at the top of Tasman Glacier. This is where the country's longest ski run starts with a 29km run to the end of the glacier.
Mount Cook National Park is certainly a challenging rugged alpine environment, but with world-class hotel, camping facilities, a tourist information centre, and walks, it is not without its comforts.
Multi-coloured alpine lilies grow in the park and a photo of these flowers with snow capped peaks in the background, certainly makes for a good postcard. This park is also the only place on Earth where the beautiful Mt Cook Lily exists.
This web site, logo, name, content, photos, and design are protected by international copyright law.
Original versions of our photos can be
purchased
& web versions can be shared subject to
conditions
.