Bay of Plenty - photos
About Bay of Plenty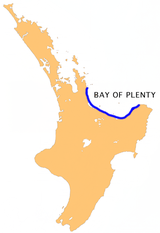 Sitting below the Coromandel and west of the Eastcoast region lies The Bay of Plenty. This region is home to some of New Zealand's great beaches. Located in an area with a sunny climate, 'The Bay' as it is sometimes known is part of the Pacific Coast Highway touring route which brings a contant flow of travellers through.
The main city in the region is of Tauranga which has a stunning harbour and a lively commercial centre. Across the bridge at Mt Maunganui lies 2 main attractions. The prominent volcanic cone of Mauao has a walk that provides spectacular views of the coastline and surrounding city. The other attraction is the huge white sand beach coupled with many beachside cafes, bars, and restaurants. The beach reaches 100 kilometres to the town of Whakatane.
Whakatane is a beautiful town that offers expeditions to White Island, an active marine volcano.
This web site, logo, name, content, photos, and design are protected by international copyright law.
Original versions of our photos can be
purchased
& web versions can be shared subject to
conditions
.