Whakatane - photos
About Whakatane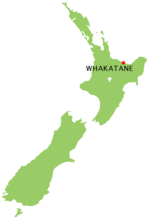 Whakatane in the Bay of Plenty is a coastal town conveniently located close to both Tauranga and Rotorua which are popular tourist areas. The town itself is the gateway to the active marine volcano, White Island which can be seen from the coast, so the town receives a good share of tourists for this attraction and others. The town has rich Maori culture as nearly half of Whakatane's population is Maori.
Besides tourism, other industries here include: dairy farming, fishing, forestry, and manufacturing.
This web site, logo, name, content, photos, and design are protected by international copyright law.
Original versions of our photos can be
purchased
& web versions can be shared subject to
conditions
.