Te Kuiti - photos
About Te Kuiti
Te Kuiti located in the King Country of New Zealand is a small town near the Waitomo Caves, a major New Zealand tourist attraction. For this reason, the town is kept busy catering for visitors to the area. The I Site Visitor Centre in the heart of the town sells tickets for transport and entry to the Waitomo Caves and provides information on accomodation and other attractions in the area.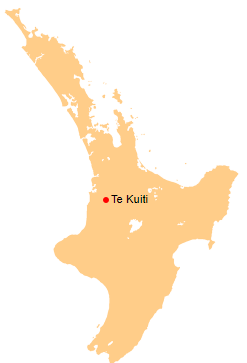 Besides its location, the town is famous for producing one of the greatest rugby players of all time. Colin Meads played 55 test matches for the world famous All Blacks and was named New Zealand Player of the Century at the NZRFU Awards in 1999. The International Rugby Hall of Fame considers him to have been 'the most famous forward in world rugby throughout the 1960s. He was also appointed a Member of the Order of the British Empire for services to rugby.
Besides scenic caves and associations with rugby, Te Kuiti also is also known as the sheep shearing capital of the world. The town hosts the annual New Zealand National Shearing Championships and a giant statue of a sheep shearer outside the town is testament to how important the sheep industry is to the area.
This web site, logo, name, content, photos, and design are protected by international copyright law.
Original versions of our photos can be
purchased
& web versions can be shared subject to
conditions
.