Lake Manapouri - photos
About Lake Manapouri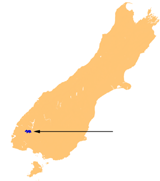 Lake Manapouri is situated within Fiordland National Park. Formed by glaciers it is the second deepest lake in the country measuring 444 metres deep. The lake is 28 kilometres (17.4 miles) long, has 33 islands, and its shape has 4 arms.
The lake provides hydro-electricity at the Manapouri Hydroelectric Power Station. In the West Arm it discharges water through to Doubtful Sound. This marvel of engineering is mostly hidden underground with only two sets of transmission lines and a switchyard above ground.
The towns of Manapouri and Albert Town are situated on the shoreline of the lake. The lake is a popular tourist area and is used for fishing, boating, and swimming. Tours of the lake, power station, and scenic Doubtful Sound are very popular and come highly recommended if you want to see some spectacular New Zealand scenery.
This web site, logo, name, content, photos, and design are protected by international copyright law.
Original versions of our photos can be
purchased
& web versions can be shared subject to
conditions
.