Bay of Islands New Zealand - photos
About Bay of Islands New Zealand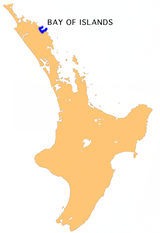 The Bay of Islands in the Northland region is one of New Zealand's premier tourist locations. About 260 km (160 miles) north of Auckland it is about a 3-4 hour drive making it easily accessible. The closest city is Whangarei which is 60 km north-west.
The Bay of Islands has a wam climate, great beaches and 144 islands to explore. Activites on offer include swimming, diving, walking, kayaking, and sailing. It is also an internationally acclaimed big-game fishing area.
The bay is a natural harbour with several intricate arms or inlets including Waikare, Te Puna, and Kerikeri inlets. The main towns in order of size are Paihia, Russell, and Waitangi. The latter is where the nations founding document (The Treaty of Waitangi) was signed and Russell is a charming village with much historical significance to New Zealand as it was the first capital of New Zealand.
To really experience this area you need to book a tour out to the islands. Most boats visit the 'Hole in the Rock' and out to Cape Brett.

The Hole in the Rock is what its name suggests, a large rock sticking out of the water. The gap in the rock is big enough to allow most boats passage through. Urupukapuka Island is the largest island in the Bay. This island is blessed with beautiful beaches and nature. It also has a facinating past for both Maori and European.
Captain James Cook was the first European to visit the Bay of Islands in 1769. It was also the first area in country to be settled by Europeans. Whalers came later followed by missionaries and then other settlers. The first full-blooded European (Pakeha) to be born in New Zealand was Thomas King who was born in 1815 in the Bay of Islands.
This web site, logo, name, content, photos, and design are protected by international copyright law.
Original versions of our photos can be
purchased
& web versions can be shared subject to
conditions
.