Upper Hutt - photos
About Upper Hutt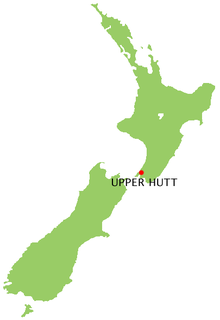 Upper Hutt is located next to Lower Hutt in the upper reaches of the Hutt Valley, hence the city's name. Upper Hutt is part of the Wellington region.
The city is built in a plain between the hills of the Rimutaka and Akatarawa ranges and about 30 km north of Wellington city. Due to its inland position temperatures are more extreme than in Wellington city. Summer can be 5 degrees warmer but can also be much colder in Winter. It benefits from not being buffeted by the strong winds that Wellington experiences.
You are never far from the great outdoors in Upper Hutt. Just north of the city is Tunnel Gulley a reserve containing native bush with carparks and amenities. Further north lies the Kaitoke Reserve which has virgin Podocarp rainforest dissected by the Hutt River. The river here provides some excellent swimming areas and is a great place for a picnic on a warm summers .day
Travelling north from Upper Hutt on State Highway 2 takes you over the scenic Rimutaka Road and onward to the Wairarapa region. An area with a drier climate with many fine vineyards and classic small towns that are reminiscent of an earlier time.
This web site, logo, name, content, photos, and design are protected by international copyright law.
Original versions of our photos can be
purchased
& web versions can be shared subject to
conditions
.