Lower Hutt - photos
About Lower Hutt

Lower Hutt lies in the Hutt Valley, a plain between the Western and Eastern Hutt Hills north of Wellington Harbour in the Wellington region. These hills are around 1000 feet high and easily visible. A number of lookouts in Wellington city provide spectacular views over Lower Hutt and beyond.
Lower Hutt was the original settlement in the Wellington region, but repeated flooding of the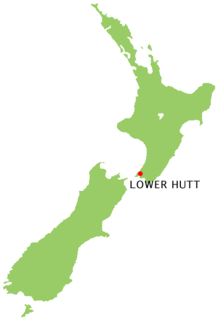 Hutt River in the city's early history led to the development of present day Wellington. Consequently, the suburb of Petone, has the oldest buildings and houses in the region. Newer suburbs exist along the western hills giving many homes great views over Wellington Harbour.
The Hutt River flows along side the city and empties into the harbour at Petone. Much of the land on either side of the river is a reserve as it is unsuitable for housing due to periodic flooding. This green-belt provides extensive recreational areas for walking, swimming, and picnic areas.
Lower Hutt also incorporates two large townships or districts such as Wainuiomata located over the other side of the Eastern Hutt Hills and beautiful Eastbourne on the eastern coastline of Welington Harbour. The city also includes a large rural areas near the south coast of the North Island east of Wellington. Matiu/Somes Island, in Wellington Harbour is also part of Lower Hutt.
This web site, logo, name, content, photos, and design are protected by international copyright law.
Original versions of our photos can be
purchased
& web versions can be shared subject to
conditions
.