Taihape - photos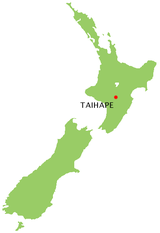 Taihape is intersected by State Highway One just south of the Central Plateau a volcanic area in the central North Island. Taihape makes the bold claim of being the Gumboot Capital of the world, few dispute this fact. Besides good humour, Taihape is a great place to stop for a rest or a meal while travelling through the main highway between Auckland and Wellington. A gumboot throw away from Taihape is the Rangitikei River which offers great white-water rafting and kayaking, with other activites such as abseiling and horse trekking.
Taihape is located in the rural Rangitikei region which stretches from Taihape in the north to Bulls in the south. This rich pastoral region also includes the towns of Hunterville and Marton.
This web site, logo, name, content, photos, and design are protected by international copyright law.
Original versions of our photos can be
purchased
& web versions can be shared subject to
conditions
.