Palmerston North - photos
About Palmerston North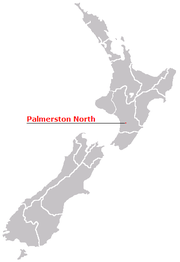 Palmerston North (often called Palmy) is an inland city located in the Manawatu region. It is also known as the Student City or Knowledge City as there are over 70 educational and research institutions with the biggest being both Massey University and the Universal College of Learning (UCOL). This give rise to the city's youthful population where over half of the residents are under the age of twenty five.
Natural features close to the city include: the Manawatu River and Manawatu Gorge. This scenic gorge where the Manawatu River passes, disects the Ruahine and Tararua ranges. An important link road through this gorge connects the Manawatu with the Hawke's Bay.
The city is situated about 140 km (87 mi) to the north of New Zealand's capital city, Wellington which sits on the south coast of the North Island.
This web site, logo, name, content, photos, and design are protected by international copyright law.
Original versions of our photos can be
purchased
& web versions can be shared subject to
conditions
.