New South Wales
Google Map
View Larger Map
Top Places
Sydney - includes, Sydney Harbour Bridge, the Opera House & Sydney's beaches. Blue Mountains, Byron Bay, Port Stephens, New England region, Hunter Valley, Kosciuszko, Pebbly Beach, Jervis Bay, Broken Hill.
About

New South Wales (NSW) located in eastern Australia is the most populous state in the country. Founded in 1788 as a colony of Britain, it originally included most of the Australian continent excluding the western side. It also included the islands Tasmania, New Zealand, Norfolk Island, and Lord Howe Island. The colony was then carved up to create other British colonies, that of Tasmania, South Australia, Victoria, Queensland, and New Zealand. With the exception of New Zealand, the colonies became states leaving New South Wales as we see today.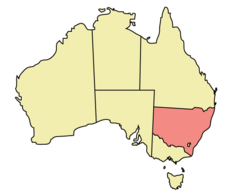 An inhabitant of New South Wales is referred to as a New South Welshman. It is unknown whether New South Wales refers to the area being named after South Wales, or a new Wales in the Southern Hemisphere.
For travellers NSW offers a great variety of beaches, beautiful national parks, outback, snow, lush rural landscapes, and Sydney, one of the most recognisable and beautiful cities in the world.

Sydney is the state capital and is renown for its spectacular harbour, a rich colonial history, and old and modern architecture. Other large cities in New South Wales include: Newcastle and Wollongong. Beyond that there are many moderate to small sized country towns. Cultural sights are concentrated in Sydney and nearby while many natural sights are found throughout the state. Australian history and identity is to some extent tied up with rural settlement and lifestyle, and thus you will find many of the outlying regions of New South Wales base their tourism industry around pioneer and rural history.
NSW is a vast state that contains a long coastline made up of beautiful beaches separated by cliffs for almost its entire length. There are also many good surf breaks, including Byron Bay in the north of the state. Byron Bay is also Australia's most easterly point. Further inland and toward the the Great Dividing Range, is the scenic New England Region. This region at one stage applied to become a State but this didn't eventuate because Newcastle (the only city in this area) voted to stay with New South Wales. The New England region is however a distinct region as it is located in a high plateau. New England is aptly named as it resembles England with its cooler climate, four distinct seasons and English looking flora.
The Great Dividing Range, Australia's biggest mountain chain contains protected areas of mountain, gorges, and rainforest. There are many areas here that are ideal for trekking and adrenalin activities such as white water rafting and canoeing.
Balmy summers and mild winters make New South Wales a good place to visit year-round, though summers might be too hot to handle if you don't like the odd 40+C (104F) day. The winter months of June to August are the best time to visit the Outback (it's unpleasantly hot in summer) and in contrast to the Outback you could try skiing on the states southern ski slopes in the Australian Alps.
West of Sydney lie the spectacular Blue Mountains, an area of sheer cliff walls and temperate rainforest. If you continue to head west you will pass through some lush farming areas which eventually give way to the vast Australian Outback. Venturing south of Sydney will take you to the Royal National Park and beyond that you will find other settlements such as the city of Wollongong. North of Sydney is the Kurangai Chase National Park. Continuing on from there, you will arrive in Newcastle. North of New South Wales lies the state of Queensland, the town of Tweed Heads is located on the New South Wales side of the border with Coolangatta on the Queensland side.
Photo Galleries
Promotional Video
Travel Links
New South Wales Travel Itinerary →
This web site, logo, name, content, photos, and design are protected by international copyright law.
Original versions of our photos can be
purchased
& web versions can be shared subject to
conditions
.