Victoria
Google Map
View Larger Map
Top Places
Melbourne includes Federation Square, Southbank, and St Kilda, Also, Grampians National Park , Ballarat, Port Campbell National Park , The Great Ocean Road, Bells Beach, Great Otway National Park, Mornington Peninsula, Phillip Island, and Wilson's Prom .
About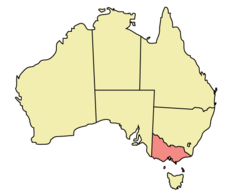 Victoria is Australia's smallest mainland state but has the highest density of population. Victoria's capital city is Melbourne the second biggest city in Australia which enjoys healthy rivalry with Sydney. Renowned for its elegance, Melbourne boasts art galleries, festivals, and a passion for eating. The latter is the result of over a quarter of the population being born overseas creating thousands of restaurants serving up tasteful experiences from all over the globe.
Melbourne's standing as the cultural capital of Australia is recognized in a nonstop program of film and food festivals, art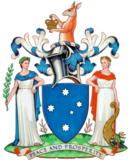 exhibitions, and theatre. The city is also famous for its range of crowd-pleasing events, from the excitement of the Australian Grand Prix to the beautiful floral displays of the Melbourne International Flower and Garden Show.
Outside Melbourne, there are many regional attractions from the penguins of Phillip Island to the spectacular coastline at the Great Ocean Road. The latter includes Port Campbell National Park which has outstanding coastal scenery and Otway National Park - the largest tract of temperate rainforest in mainland Australia.
Inland Victoria is mainly rural with areas of farming and fruit growing while northern Victoria borders the Australian Alps, a scenic area that provides skiing during winter with great walks during summer.
Photo Galleries
Promotional Video
Travel Links
This web site, logo, name, content, photos, and design are protected by international copyright law.
Original versions of our photos can be
purchased
& web versions can be shared subject to
conditions
.