Australian Capital Territory
Google Map
View Larger Map
Top Places
Canberra - includes, Parliament House, Black Mountain Tower, Mt Ainslee, National Gallery of Australia, Australian War Memorial, National Botanic Gardens, Australian Institute of Sport. The Australian Alps.
About

australian Capital Territory (ACT), is a small territory that is land locked within the hilly country of southeastern New South Wales. The only settlement in ACT is Canberra, a city arranged around Lake Burley Griffin.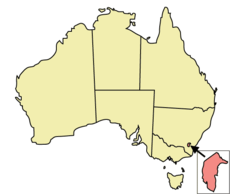 It is the capital city of Australia and one of three planned capital cities in the world. The other two being Washington DC and Brasilia.
Being a planned city, the streets of Canberra are laid out in a spider web shape and contain more gardens than any other world city. The city also contains many unusually designed buildings including Parliament and is the location for foreign embassies. The embassies are almost located side by side and all seem to try and out do each other with design and finesse.
ANZAC Memorial a popular tourist place commemorates the sacrifice of Australian and New Zealand men and women who have served in war. In the main Memorial Building are some twenty galleries of exhibits depicting the Australian experience of war, along with works by some of Australia's finest artists.
Canberra is the only non-coastal city in Australia with a reasonable population. Recreation here is more famous for skiing than the water based activities you find in other Australian cities.
Photo Galleries
Promotional Video
Travel Links
Australian Captial Territory Travel Itinerary →
This web site, logo, name, content, photos, and design are protected by international copyright law.
Original versions of our photos can be purchased & web versions can be shared subject to conditions.