The Realm of New Zealand Map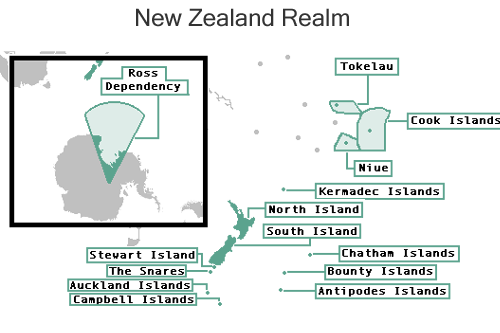 Click on the map to view a relief map of New Zealand.
The Realm of New Zealand extends beyond New Zealand's main North and South islands and surrounding smaller islands. Also included are Niue, the Cook Islands, and Tokelau to the north. These islands are in free association with New Zealand otherwise called associated states. These island groups are also closer to Tonga, Samoa, and French Polynesia than New Zealand.
New Zealand also claims rights to Ross Dependency in the Antarctica. This claim is not recognised by the United States but is recognised by Britain, Australia, France, and Norway who also have claims in Antarctica. Both Australia and New Zealand's territorial claims were originally British territory but were gifted upon independence from Britain.
This web site, logo, name, content, photos, and design are protected by international copyright law.
Original versions of our photos can be purchased & web versions can be shared subject to conditions.