Darwin Travel Guide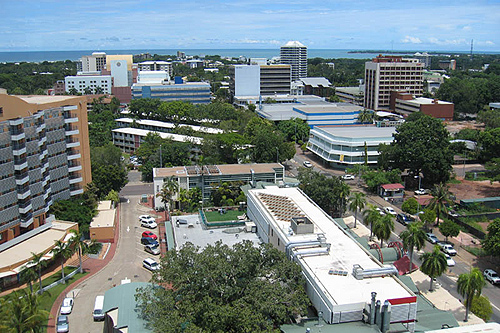 About Darwin
Darwin is the capital and biggest city in the Northern Territory. Situated on the northern coastline it is often said that it resides on the doorstep of Asia. This close proximity means that there is strong Asian influence which can be seen in the rich array of Asian cuisine and food. And like South East Asia, Darwin has a tropical climate with an average all year round temperature of 32 degrees celcius (90 degrees fahrenheit). It does however have two distinct seasons, the Wet and the Dry. The Dry is a good time to visit as it is hot with little rain. The Wet is the time of tropical downpours and lightning storms resulting in some places becoming impassible, but the landscape is notably greener at this time of the year.
Darwin is a modern city, with its modern look owing more to disasters than normal progress associated with an expanding city. Darwin has been destroyed twice and rebuilt. In 1942 the city was bombed by the Japanese during WWII and to this day remains the only Australian city to have been attacked. In 1974 it was Cyclone Tracy that levelled the city. What has emerged out of the rubble is a modern city with a resilient spirit.
Today. Darwin offers travellers a huge list of things to do. The city itself has beaches with Casuarina Beach and Mindil Beach being the most notable. Swimming in the sea during October to May should be avoided however, due to the presence of the box jellyfish which is among the world's most venomous creatures.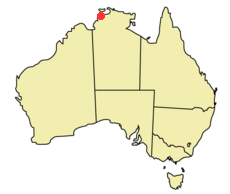 Also swimming near waterways should be avoided due to saltwater crocodiles. You can however see these creatures up close in the safe environment of Crocodylus Park. Or you could take a cruise on the Adelaide River to see Jumping Crocodiles in their natural environment. Fishing for barramundi is also a popular in and near Darwin. The city also has some great parks including the Botanic Gardens and Charles Darwin National Park.
The Art Gallery of the Northern Territory which is considered the the Territory's premier cultural institution contains Aboriginal art and craft. There is also a museum and the city itself is dotted with WWII relics and tunnels.
The main shopping area in Darwin is centred around Smith Street Mall with more shops on the surrounding streets. There are a number of markets including Mindil Beach Sunset Markets, Nightcliff Markets, and Rapid Creek Markets which offer unique arts and crafts as well as some great food.
The city was named after Charles Darwin the naturalist and close to the city is one of Australia's most renown national parks which is famous for its rich variety of animal species. A major part of this park are the wetlands of which Kakadu was named, (Kakadu is an aboriginal word meaning 'floodplain'). The Wetlands support more than 280 bird species which is accounts for about a third of all Australian bird species. The park also has the world's oldest rock art and has close ties with the Aboriginal people. The landscape is famous for its spectacular escarpment and above this escarpment is Arnhem Land, an aboriginal reserve. Kakadu National Park and Arnhem Land combined have a total area greater than 110,000 square kilometres. Other natural attractions near Darwin include Litchfield National Park and Katherine Gorge.
NEXT: Northern Territory Travel Itinerary →
OR: Back to the Australian Cities Guide →
This web site, logo, name, content, photos, and design are protected by international copyright law.
Original versions of our photos can be
purchased
& web versions can be shared subject to
conditions
.