European History of Australia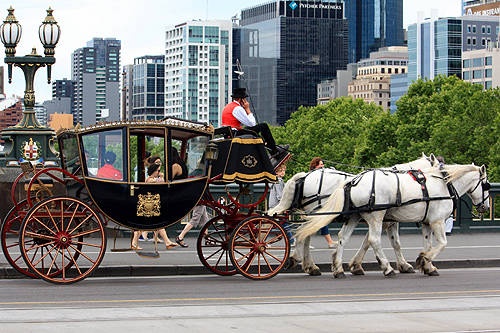 British colonisation of Australia began in 1788 when the country was initially used as a penal colony for Britain. Shortly after, migrants from Britain came looking for better opportunites and many convicts also chose to stay when they had served their sentences.
Today, British migration still provides the biggest group of immigrants. A period of mass European migration also ensued after WWII. The result is over 90% of Australia's population being classified as British or European decent. Howerver, given Australia's close proximity to Asia, many Asians have established themselves too, giving rise to a multicultural melting pot from Europe and Asia. Today there is a diverse set of lifestyles, cultural practices, and food dishes that are now part of mainstream Australia.
Australia's convict past and the difficulty and challenges of living in a country that has extreme weather and climate led to early settlers experiencing great hardship. This led to the need to support your neighbour and from this arose the term 'Aussie battler', which means to battle against the odds and even laugh in the face of adversity. It also led to the term 'mates', which are those people who support you no matter what the circumstances. Even the infamous outlaw Ned Kelly is a celebrated national icon. He was the son of an Irish immigrant who became a type of Robin Hood in the 19th century. This attitude is often the inspiration behind many Australian songs, cinema, and literature today.
Early gold rushes and later mining booms as well as a large farming economy eventually helped Australia out of hardship to become a wealthy nation. This led to rapid urbanisation and the construction of modern cities to serve the relatively wealthy populous. Today, Australians enjoy one of the highest standards of living in the world along with a life expectancy among the world's highest.
Australia fashion and clothing reflects its culture. Due to high numbers of Italians living in Melbourne, that city has many high fashion stores and the cooler climate allows fashionable wear that reflect the seasons as opposed to the more casual attire found in warmer regions in Australia. Surfwear is both fashionable and practical in the coastal regions and Australian surfing brands like Rip Curl and Billabong are internationally recognised lables. Besides the beach, other landscapes in Australia give rise to unique Australian fashion such as the bush, rural areas, and the vast outback. Australian clothing labels such as Akubra and Drizabone are associated with these areas.
Australian food traditions have been shaped strongly by immigrants to Australia. Australian cuisine was traditionally British and was introduced as far back as the arrival of the first British settlers. In the 19th and especially 20th century, food began to reflect greater influences from Asia and Europe, especially the Mediterranean area. Today, Australia offers world class food from around the globe.
This web site, logo, name, content, photos, and design are protected by international copyright law.
Original versions of our photos can be
purchased
& web versions can be shared subject to
conditions
.